A PRELIMINARY STUDY ON RADIO FREQUENCY (RF) ELECTROMAGNETIC FIELDS EXPOSURE FROM 5G AND NON 5G TRANSMITTER IN LANGKAWI
Keywords:
5G, Radio Frequency (RF)
Abstract
5G is the 5th generation mobile network which is the latest wireless communication technology. The existence of this technology caused public concern towards the exposure of radio frequency (RF) radiation from 5G system will affect human health. A preliminary study has been conducted to evaluate the RF radiation level produce by 5G transmitter in Langkawi Island. In this study, RF level assessment was done at 11 locations where 5 locations are 5G Use Cases Area while 6 locations do not have 5G transmitters. The safety assessment was conducted using broad band electromagnet probe and spectrum analyser at frequency range of 100 MHz and 90 GHz. The strength of RF level was measured in unit V/m and µW/cm2. Measured RF radiation levels were compared to the exposure limits toward human as mentioned in Mandatory Standard issued by the Malaysian Communications and Multimedia Commission (MCMC) and the International Commission on Non-Ionizing Radiation Protection (ICNIRP). Result of the study show that RF radiation level at areas with 5G transmitter are higher compared to areas without 5G transmitter. However, the RF radiation level produced by 5G transmitter is still far below the permissible exposure limit by MCMC and ICNIRP.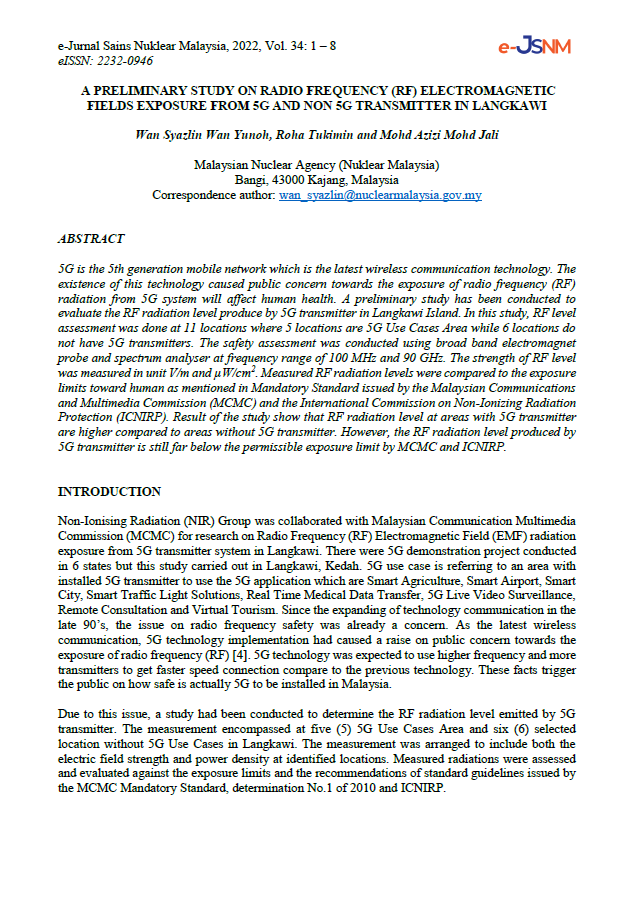 Downloads