IRRADIATION PROTOCOL DEVELOPMENT FOR ORIENTAL FRUIT FLY STERILE INSECT TECHNIQUE (SIT) AND QUARANTINE STUDIES
Keywords:
fruit fly, irradiation, protocol
Abstract
Study on the effect of gamma irradiation treatment on oriental fruit flies, Bactrocera dorsalis (Diptera: Tephritidae) is important in the field of sterile insect technique, SIT (50-100 Gy) and quarantine (100-400Gy). The purpose of the protocol is to ensure an implementation of good irradiation practice that would result in consistent and reliable outcome of absorbed dose during the entire study period as long as the sample configuration and radiation processing settings are maintained. Polypropylene plastic containers (11.5 x 10 x 5.3 cm) containing synthetic media were used to mimic actual samples of pupae of B. dorsalis. When the protocol is developed and used, expected minimum doses achieved should not fall below the target doses. In this study, the target doses during routine exposure of actual sample (n=5) to 50, 100, 150, 200, 250, 300, 350 and 400 Gy with implementation of the protocol gave minimum dose results as expected; 54.5 + 2.8, 106.0 + 2.3, 159.2 + 1.9, 210.8 + 3.0, 263.4 + 2.6, 314.7 + 3.7, 365.3 + 4.1 and 410.1 + 8.2 Gy, respectively.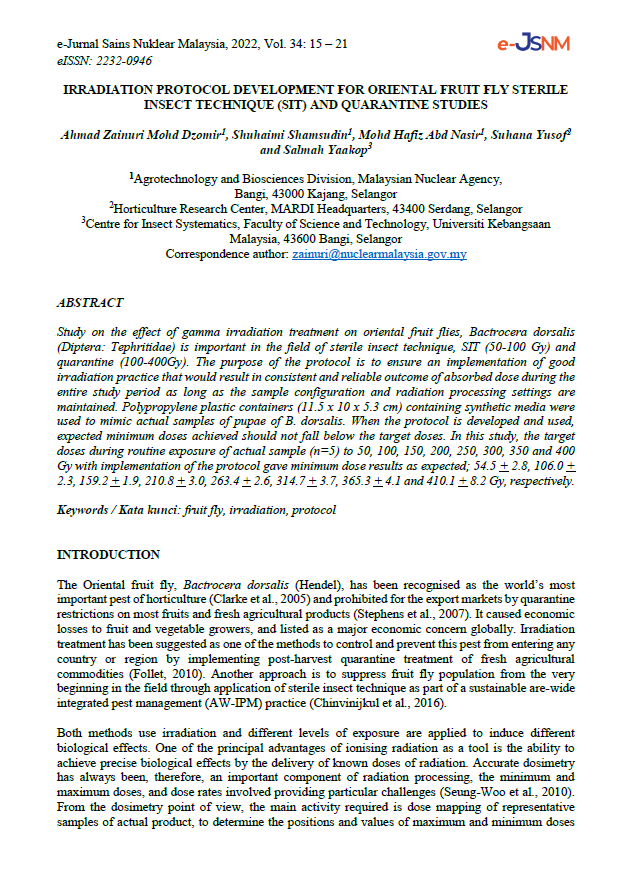 Downloads