EFFECTS OF BIOFERTILIZER AND OLIGOCHITOSAN IN INCREASING NITROGEN USE EFFICIENCY (NUE) IN BRASSICA JUNCEA
Keywords:
Biofertilizer, oligochitosan, Brassica juncea, NUE
Abstract
Brassica juncea is one the most popular vegetables cultivated in Malaysia. The effects of M99 biofertilizer and oligochitosan in increasing nitrogen use efficiency (NUE) in Brassica juncea (mustard) was investigated. Biofertilizer is a mixture of microbes containing major nutrient-providing microorganisms. Oligochitosan on the other hand acts as an elicitor that has been proven to be very effective in controlling disease infections and improving crop productivity. Five treatments namely control (C), farmers practice (FP), biofertilizer (B), oligochitosan (O) and biofertilizer with oligochitosan (BO) were applied on the plants. For FP treatment, nitrogen, phosphorus and potassium (NPK) fertilizer were used. All of the treatments were applied onto plants at week three and four after sowing. In addition to NUE, data on plant yield in tonne per hectare was also collected. From this study, highest NUE (20.02%) was obtained through BO treatment whilst FP treatment was observed to produce the highest yield (40.22%) among other treatments. From this finding, combination of BO and FP applications are suggested to be used. However further investigation is needed in order to see the effect on yield and efficient use of plant nutrients.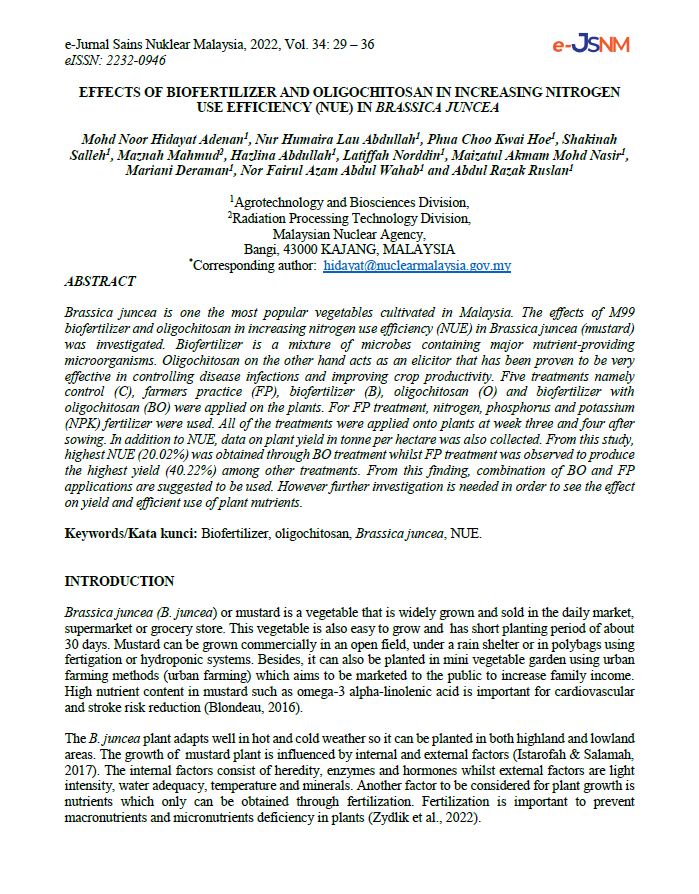 Downloads