OPTIMIZATION OF GAMMA IRRADIATION DOSE FOR MAS COTEK AS RAW MATERIAL FOR PHYTOPHARMACEUTICAL PRODUCT
Keywords:
Mas Cotek, Gamma Irradiation, Phytochemical, Antioxidant Activity
Abstract
Microbial contamination in final product prone to occur in herbal raw material due to the presence of microorganisms in the environment. This may cause a shorter shelf life of the products and lead to undesirable effects on consumer. Mas Cotek, scientifically known as Ficus deltoidea is being utilised as a medication for several medical conditions throughout the Malay Archipelago. This study was conducted to identify the optimum gamma irradiation dose for sterilization of Mas Cotek raw material in order to achieve the acceptable microbiological limits without affecting the quality of raw materials. Besides, the content of vitexin in Mas Cotek with different gamma irradiation dose were also evaluated using Ultra High Performance Liquid Chromatography (UHPLC). Controlled exposure of gamma irradiation (0 kGy, 3 Gy, 6 kGy, 9 kGy and 12 kGy) were exposed to the raw material. Moreover, the specified dose is expected to reduce the bioburden to the desired level concurrently minimizing the effect on the product. Upon irradiation process, the raw materials were extracted and assessment such as antioxidant status, phenolic content, total anti-microbial content, and total yeast content were done. The results shown that, there were significant different in phytochemical component and antioxidant activity status in accordance to difference doses of gamma irradiation. Total aerobic microbial count (TAMC) and total yeast microbial count (TYMC) also showed a significantly reduced in irradiated raw material at higher dose. The vitexin content were found varies depending on the gamma irradiation doses respectively. In conclusion, gamma irradiation on raw material of Mas Cotek will decreases the number of microbial burdens. However, gamma irradiation with different dose also have varies impact on the content of vitexin in Mas Cotek.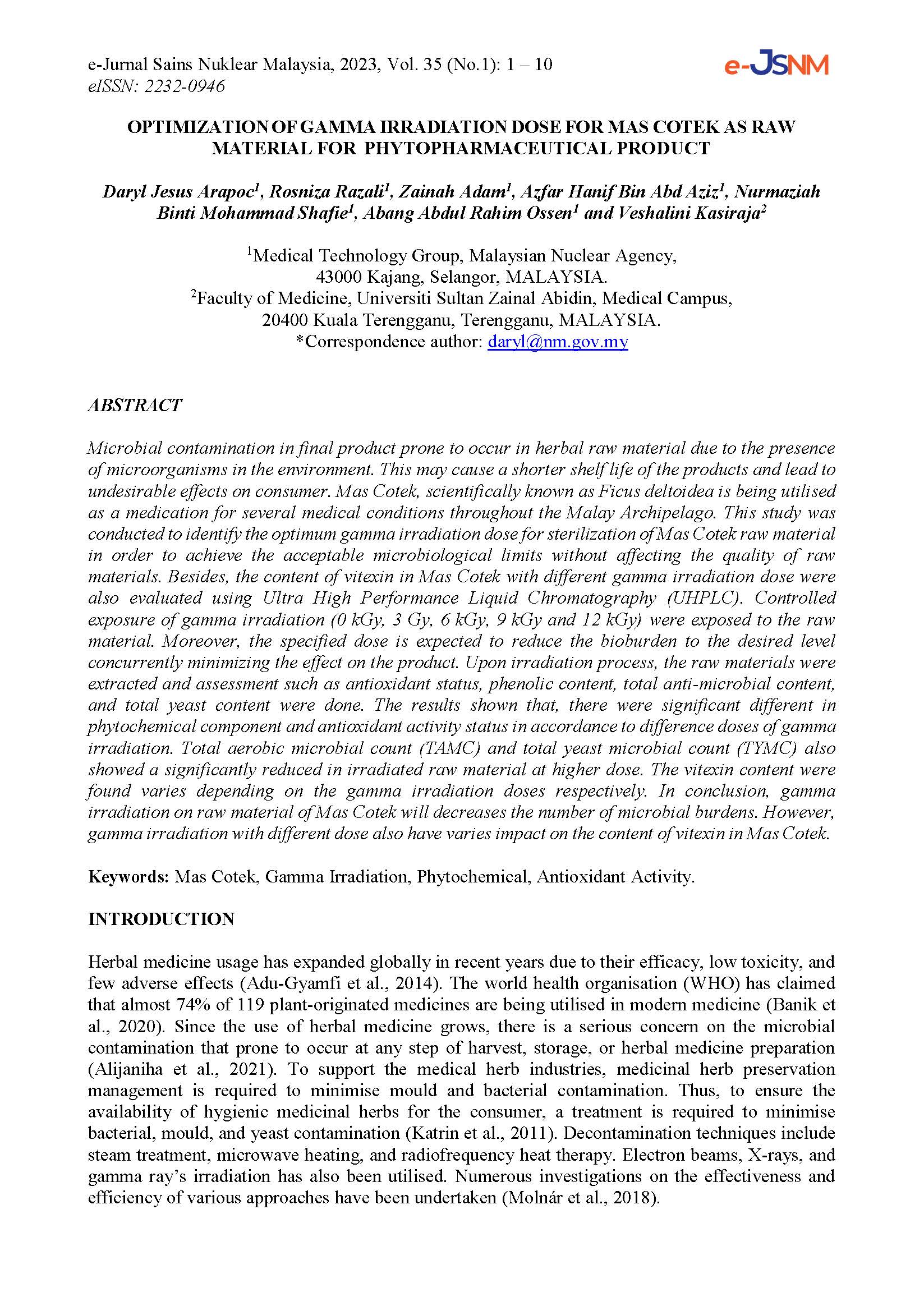 Downloads