PENILAIAN PRESTASI R&D TEKNOLOGI NUKLEAR: KAJIAN KES AGENSI NUKLEAR MALAYSIA
Keywords:
efficiency, growth, nuclear technology, performance, R&D
Abstract
Nuclear technology has started in Malaysia since the establishment of the Malaysian Nuclear Agency (Nuclear Malaysia) in 1972. The agency was established to promote the peaceful application of nuclear science and technology for national development. Nuklear Malaysia also plays important role in providing research, development, commercialisation, and innovation (RDCI) in line with national interests, including industry, medicine and healthcare, food and agriculture, natural resources, energy, and nuclear safety and security. This paper aims to examine the performance and the growth of nuclear technology R&D in Nuklear Malaysia from 2011-2021 using the data envelopment analysis (DEA) and Malmquist index (MI) analysis. The study uses two inputs, namely RDC & Development budget (RM Million) and Operating budget (RM Million), and three outputs, namely revenue (RM Million), no. of R&D products and no. of publications. The result shows that the performance of nuclear technology R&D in Nuklear Malaysia is 96.70 per cent from 2011-2021. The study shows that nuclear R&D growth decreased by 8.3 per cent for the entire study period. The technological changes decreased at 8.3 per cent, while the efficiency changes remain. The study also found that nuclear technology R&D growth index in Nuklear Malaysia is mainly affected by technological changes due to policy changes compare to the resources provided since efficiency changes remain. The findings of the study help management and officials of Nuklear Malaysia to realign the institution's direction to ensure the nuclear technology RDCI contribute to the socio- economic development of the country.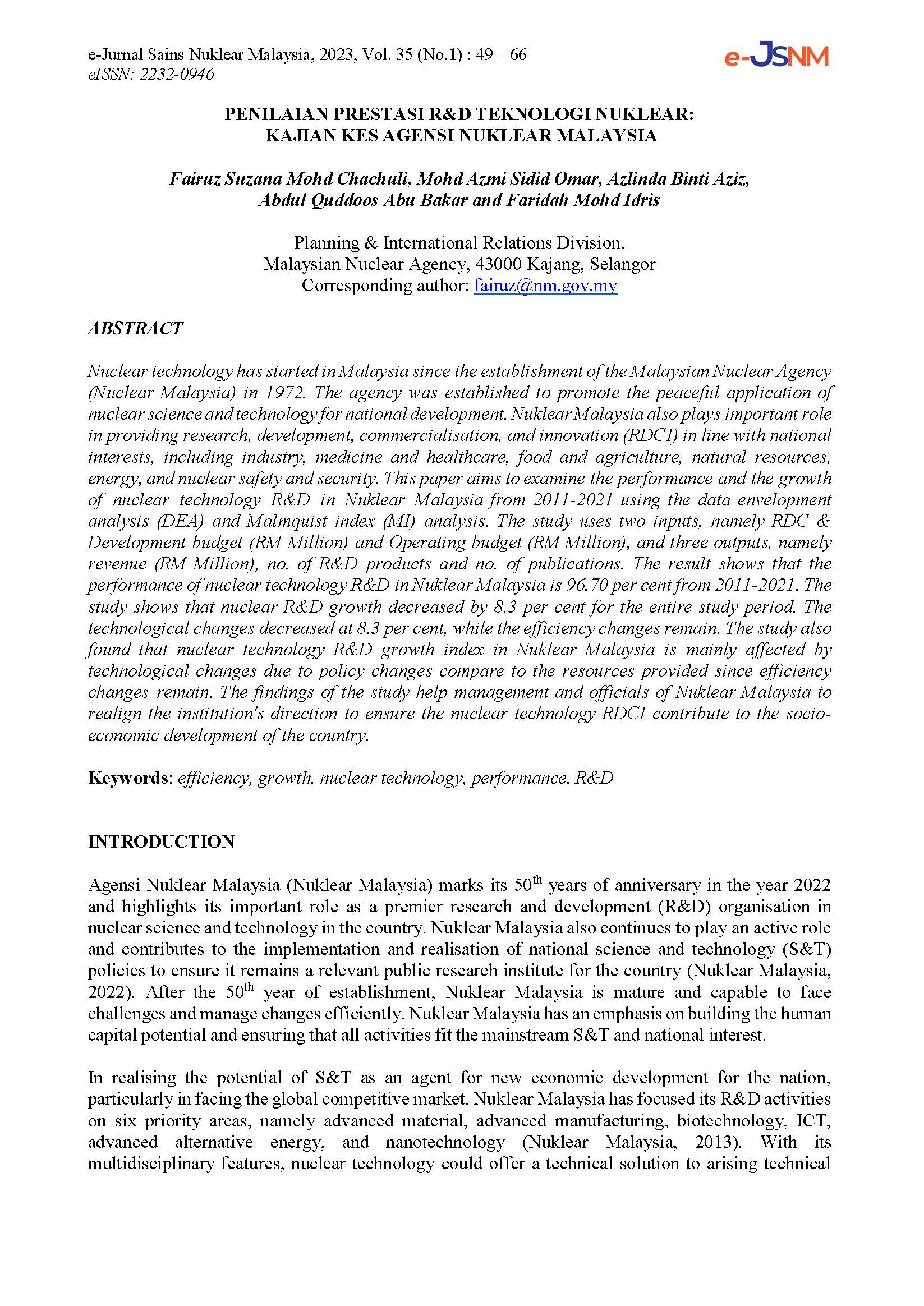 Downloads