EFFECTS OF NCO/OH RATIO ON THE PROPERTIES OF RADIATION CURABLE WATERBORNE POLYURETHANE ACRYLATE
Keywords:
Radiation curable, Prepolymer, Dispersion, Polyurethane Acrylate
Abstract
A series of radiation-curable waterborne polyurethane dispersion was synthesized with two different NCO/OH ratios of 1.5 and 2.0. The polyurethane prepolymer was synthesized by reacting polypropylene glycol (MW=2000) with isophorone diisocyanate to produce -NCO end-capped polyurethane prepolymer. The prepolymer chain was then terminated with hydroxyethyl acrylate and dispersed with deionized water to produce waterborne polyurethane acrylate (WPUA) dispersion. The WPUA dispersions were mixed with two types of photoinitiators, Irgacure 500 and Darocur 1173, and cured under a medium pressure mercury ultraviolet lamp with a wavelength of 365 nm to produce PUA films. The effects of NCO/OH ratios and different types of photoinitiators on the properties of WPUA dispersion and PUA film were studied. Both dispersions with NCO/OH ratios of 1.5 and 2.0 exhibited similar properties, with a pH value of approximately 7 and good dispersion stability. The zeta potential was measured at -60.9 for the NCO/OH ratio of 1.5 and -48.78 for the NCO/OH ratio of 2.0. The viscosity of the dispersions increased as the NCO/OH ratio increased. Regarding the curing speed of the WPUA dispersions, it was observed that Irgacure 500 performed better than Darocur 1173 for low film thicknesses of 50 µm at 5 passes. However, as the thickness of the PUA film increased to 100 µm, the curing speed became similar for all dispersions, requiring 9 passes, irrespective of the NCO/OH ratio or type of photoinitiator. The hardness of the PUA films was evaluated using a pendulum hardness test. It was found that the type of photoinitiator did not have an impact on the film hardness. However, the NCO/OH ratio influenced the hardness, with higher ratios resulting in increased hardness. These findings contribute to the understanding of the properties and performance of radiation curable waterborne polyurethane dispersions and provide valuable insights for their potential applications.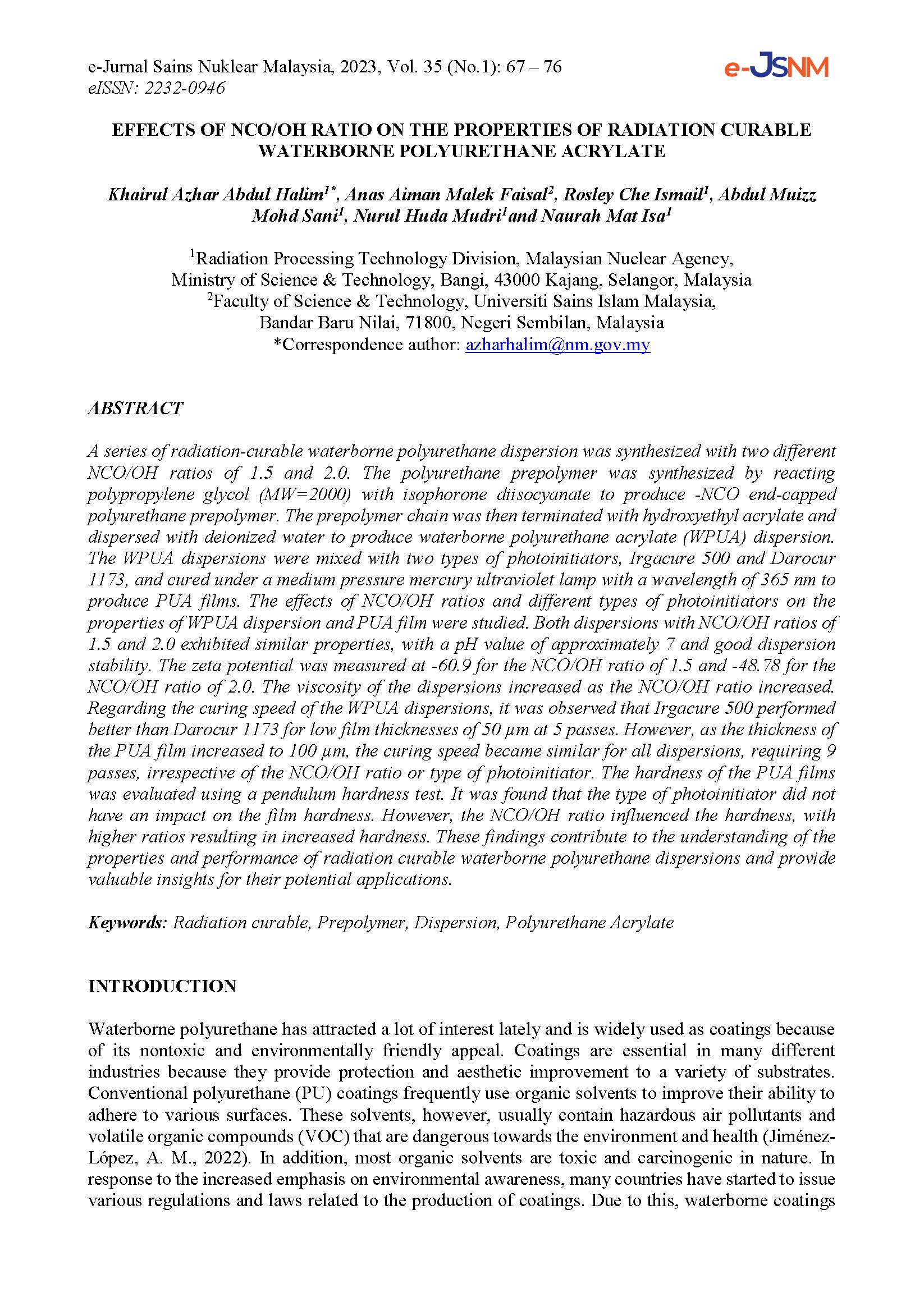 Downloads